10 Steps to Buying a House October 1, 2018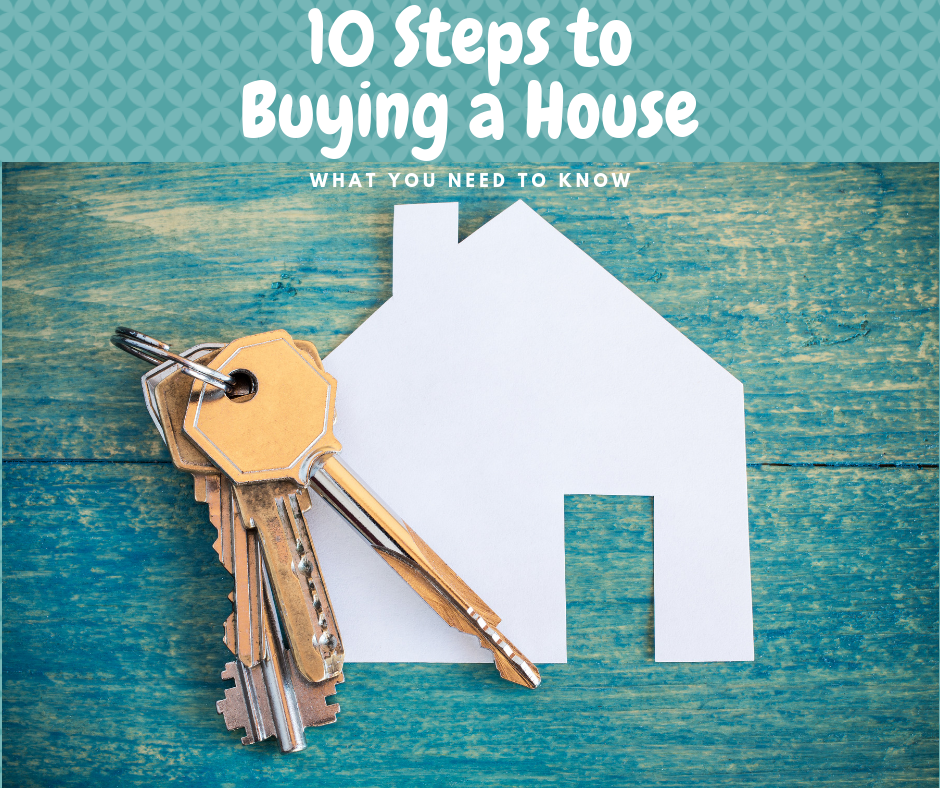 1. Get Pre-Approved
Unless you plan on paying cash for your house, the most important step is to speak with a lender to get pre-approved. Many people want to wait until they find a house before doing this step, so they don't affect their credit scores. But waiting is a bad idea for several reasons:
a. When you submit your offer for a house, you need to include your pre-approval letter. If you don't have it, you may miss the opportunity to get the house.
b. Getting pre-approved helps you to determine your budget—how much you can pay for a house
c. If there are concerns with your credit/finances, you lender can help you to work on improving them before the final loan qualification step.
d. The lender can give you guidance about using money not already in your bank account (cash or gifts from realitves)
2. Clearly Define What You Need in a House
Before you start looking for that perfect house, you need to first define what that is.
a. Define absolute must-haves such as location, schools, number of bedrooms etc.
b. Define absolute must-not-haves such as proximity to busy roads or flood prone areas
c. Define nice-to-haves such as private pool, cul-de-sac, etc.
d. Define your timeline--when would you like to be in the house and when do you absolutely need to be in the house
e. Rank all items in order of importance. It is likely you won't find a house that meets all your requirements. So, be prepared to evaluate a house based on meeting your top priorities.
3. Select a Good Realtor
Almost everyone has a relative, friend, or neighbor who is a real estate agent. And, out of a since of loyalty, they often select this relative, friend, or neighbor as their agent. However, when making such a huge purchase, you need to ensure the agent is professional, full-time, and committed to making your purchase go as smoothly as possible. You should be able to quickly identify if your agent is committed to their real estate business or treating it like a hobby.
4. Narrow Your List of Houses to Visit
While it might be fun to browse through each and every house on the market, it is not practical to visit all of them. Work with your real estate agent to narrow the list to your top 3 or 4 candidates. Then schedule a visit to see them in person. More than 5 homes is difficult to coordinate AND the houses all start running together in your mind.
5. Decide on the Right Price
Once you've found the right house, work with your real estate agent to decide on an offer price. Sometimes it is below list price and sometimes it is above list price, depending on market factors and competition.
6. Submit an Offer
If you a serious about a house, this should be done as soon as possible. The best houses go fast and it would be unfortunate to miss a house because you took to long to submit an offer.
7. Pay the Earnest Money and Option Money
In Texas, these are both due within 3 days of the final contract signature. Don't miss these important dates.
8. Work with Your Lender to Complete the Qualification Process
Pre-approval is just the first step. The lender still has to do an in depth assessment of your finances as well as appraising the value of the house you are buying. Get this process started as soon as possible as this is typically the longest part of the process.
9. STOP LOOKING FOR BETTER DEALS!!
It's very tempting, but once you've made an offer on a house, stop looking. You will always find other possibilities that have different positives and negatives than the house you have under contract. But this typically just adds doubt and stress to the purchase process. Yes, it's true, there could be a better choice out their for you...but no matter what house you select, that will always be true.
10. Closing the Deal
After the lender has finished the approval process and the title company has finished their part of the process, the last step is closing the deal. Confirm with the title company in advance what you need to bring to the closing (funds, identification, etc.)